"Easy & Simple – No Coding Required"
Transform your business teams from thinkers to makers by enabling them to Innovate, Experiment and Deliver enterprise-grade apps faster with low-code platform.
Low-code platform lies at the heart of abstraction, automation and intelligence.
A low-code development platform uses visual interfaces with simple logic and drag-and-drop features instead of extensive coding languages. These intuitive tools allow users with no formal knowledge of coding or software development to create applications for different purposes
These platforms have become increasingly popular as a fast and easy alternative to traditional software development. Both professional developers as well as new comers can use a low-code platform to create apps of varying complexity to meet business demands and accelerate digital transformation
Benefits of Low Code Development
1.  Reduce backlog, get more done with less:
The demand for new applications is predicted to grow 3X. Build a range of applications for real business problems with minimal coding, while reducing the requirement backlog.
2.  Work smarter, together:
Scale efficiently, iteratively, and seamlessly across web, mobile, email, and chat applications. Allow users to move between cloud platforms or a hybrid cloud.
3.  Minimize errors, eliminate risk:
Low Code Platforms use autonomous database and machine learning-based automation for full lifecycle management, eliminates cyberattack vulnerabilities, protects from system failures, and maintains uptime.
4.  Scale with confidence:
Open APIs allow you to integrate with other technologies. Centralized, role-based authoring tools let IT leaders establish guardrails and manage work. Built-in DevOps tools give you the power to continuously integrate and deliver at any scale
Low Code Development Process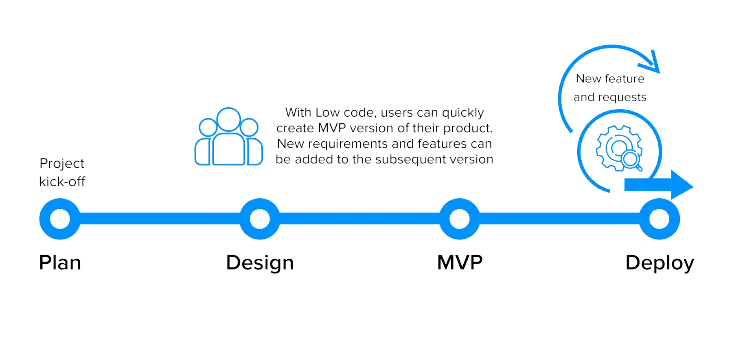 We are well versed in Mendix & OutSystems platform. Every nook and corner of your virtual world will be created with full attention to keep the users interested in using it forever.
Build full-blown business applications rapidly using Low-code platform
Find out more about how we can help your organization in building enterprise applications using Low-code technology.
Let us know your areas of interest so that we can serve you better.